New Years Menu
---
Network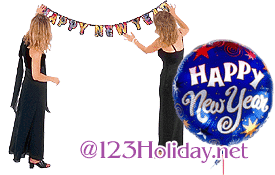 New Years Toasts
The Lord gives our relatives,
Thank God we can choose our friends.

---
As you slide down the banisters of life, may the splinters never point the wrong way.

---
Love to one, friendship to many, and good will to all.

---
May the clouds in your life form only a background for a lovely sunset.

---
May the friends of our youth be the companions of our old age.

---
Here's to a long life and a merry one
A quick death and an easy one
A pretty girl and an honest one
A cold beer and another one!

---
Send Flowers Online!
---
Here's to Eternity, may we spend it in as good company as this night finds us.

---
Here's to our friends, and the strength to put up with them.

---
Here's to us all, God bless us every one!

---
I used to know a clever toast
But now I cannot think it
So fill your glass to anything
And damn your souls, I'll drink it!
Life, alas
Is very drear
Up with the glass
Down with the beer!
---
May the morning of prosperity shine on the evening of adversity.

---
May the sunshine of comfort dispel the clouds of despair.

---
May we live to learn well, and learn to live well.
May you live as long as you want,
and never want as long as you live.

---
May you never lie, cheat, or drink.
But if you must lie, lie in each other's arms.
If you must cheat, cheat death.
And if you must drink, drink with all of us
because we love you.

---






Search the web: